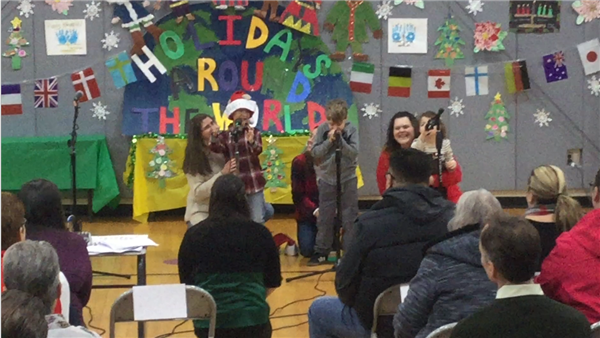 Check out our December 2018 Holiday Show!
Our 2018 Holiday show was an amazing success! On December 14th at 1:00pm over 120 of our parents, families, and friends came out to see The Shore Center students perform! The theme this year was Holidays Around the World. Each class represented a different country and sang a song that somehow tied into that country. For example, Ms. Paige and Ms. Alicia's classes were England, and they sang Paul McCartney's (of The Beatles, British!) version of Simply Having A Wonderful Christmas Time! Ms. Jacky's class represented Kenya, and sang Kwanzaa Celebration. All of the classes did a stellar job!

We also had individual students who are studying in private music lessons perform. Check out this Video of Christian's amazing piano performance!

Students played different instruments, used technology to compose music, and sang to their heart's content. Here is Josh playing the piano. He does an amazing job using two hands and playing separate parts.

Ms. Jacqui did an amazing job on the backdrop as well! Her and all of the students worked hard all month to create an amazing backdrop representing the world, all of the different holidays, and winter. Thank you so much, Ms Jacqui!

Great job everyone!